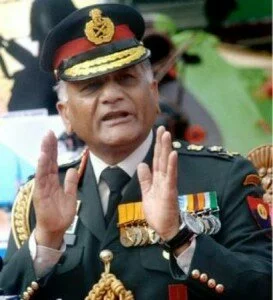 Threatening controversial row between Gen VK Singh and Government over the "letter leak", Chief is seeking to meet for discussion on issue after getting appointment with Prime Minister Manmohan Singh and Defence Minister AK Antony today.
It is said that today meeting comes as significance development by the Defence Ministry after allegations made by Gen offering a bribe by an equipment lobbyist and the leak of confidential letter to PM based on Indian army shortcomings and lack of preparedness.
In his recent statement, the Chief informed his communication with the PM was "privileged" and described the leak as "high treason".
He said, "This cynical approach to tarnish my reputation should stop. Sources of the leakage should be found and dealt with ruthlessly."
The communication to PM was so crucial and sensitive information about National security that can work to the advantage of India's enemies. It can harm over all Indian defence academy.
Approving appeal of Government for the Intelligence Bureau probe on matter, Ministry said that it has been asked IB to conduct an expeditious probe as "national security is at stake", finding the actual persons behind the "anti-national" act.
"High treason" leak issue is likely to damage the reputation of all Army department and acting upon the storming row, AK Antony promised to take "strong actions" as hard punishment against those found guilty of leaking the letter, no matter how senior, would be punished with the harshest sentence possible.
During a press conference, Antony said, "My first priority is to find who leaked the letter…don't want to live in a fantasy, want to find the trust first."
Appreciating govt. soft reaction with chief, he said, "All the three service chiefs enjoy the confidence of the government. They are still working. Otherwise how can they continue."
There is a difficult situation for Antony as what he has to do. Whether take action against Chief by sacking or asking him to go on leave. Shocking fact was that the Chief who under with three allegations was refused to present at a Defence Expo yesterday, though senior Minister Antony, Minister of State for Defence and Navy chief Admiral were included there.