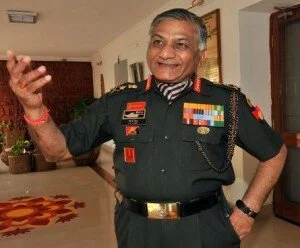 In a big crack-down in Army bribe case, the Army Chief VK Singh has once again given a socking statement.
The army chief has today named retired Lft Gen Tejinder Singh in the incident in which VK Singh was offered a bribe of Rs14 crore.
In regards to this, when media tried to approach Defense Minister AK Antony, he said, "I did not receive any written complaint at any stage."
AK Antony was asked by media that his ministry did not act on army chief's allegation.
Earlier, it was said by VK Singh that he informed about the incident to AK Antony.
He had asked Army chief to take action but he said, "I don't want to pursue it. If I am wrong, punish me. But I have done my best."
The Defense Minister said that he is all for army modernisation but will not permit any sort of corruption as well as he will cancel all contracts if corruption is found.
Antonym said, "I have spent all my life fighting corruption."
He further told media that a comprehensive CBI probe will be ordered in the incident.
Tagged as: AK Antony, army bribe case, Army Chief VK Singh, CBI, Corruption, Featured, General VK Singh, India News, Indian Army, Lt Gen (retd) Tejinder Singh, NTN, VK Singh

Published by Himmat Mehra in: General News India News
If you like this blog please take a second from your precious time and subscribe to my rss feed!