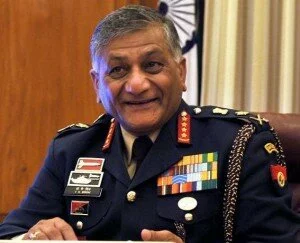 One side Anna Hazare is fighting against corruption, and on the other hand a surprising statement came from the Indian Army Chief.
General VK Singh has recently said in an interview that he was offered a bribe of around Rs 14 crore by an equipment lobbyist as a move to have a tranche of 600 sub-standard vehicles of a tender made cleared for purchase.
Further, Army Chief told media that 7,000 of such vehicles are already being used by the Indian Army and had been sold in past many years at exorbitant prices.
Army Chief V K Singh was talking to a daily newspaper, 'The Hindu'.
In his interview, Mr. Singh said, "One of these men had the gumption to walk up to me and tell me that if I cleared the tranche, he would give me Rs 14 crore. He was offering a bribe to me, to the Army Chief. He told me that people had taken money before me and they will take money after me."
The Army Chief also said that he informed the incident to Defence Minister AK Antony.
While answering to a question that how the Army Chief could be offered a bribe, Mr. Singh said, "Obviously somewhere our standards of probity and integrity have fallen."
VK Singh, who recently lost his date of birth battle with Govt, said, he was pin-pointed as he brought-out matters of corruption in the Army.
He said, "Things are fast unravelling and you will soon see the hand behind the drama. You will soon see who the sutradhar of the play is."
In a reaction to General VK Singh's statement, Major General (Retd) Satbir Singh said, "It is a matter that needs to be gone into in detail. If this information was given to the Defence Minister and no action was taken then this is a serious matter."
Tagged as: AK Antony, Army Chief, Army Chief VK Singh, Bribe, Corruption, Defence Minister, Featured, General VK Singh, India News, Indian Army, NTN, Top News

Published by Himmat Mehra in: General News India News
If you like this blog please take a second from your precious time and subscribe to my rss feed!