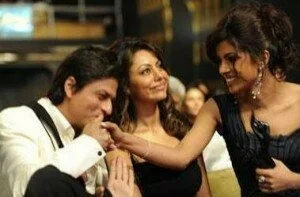 Now it seems to be very tough time facing by Bollywood Don Shah Rukh Khan after a buzz over his relation with his Co-star Priyanka Chopra has been threw out.
The shocking fact is that the rumour regarding Shah Rukh and Priyanka's affair has spread over by a very good friend of Shahrukh khan's wife Gauri, that is of Neelam Kothari.
In whole professional life of Bollywood king Shah Rukh khan, it is a big controversy that really affecting his married love life relationship.
As per report, the buzz regarding both stars affair would seek to be a black clouds thundering on King's real life relationship with Gauri. Their married life is moving with ups and downs for first time because of this.
But Shah Rukh who is always known for his full dignity and loyalty for his family, his wife Gauri and two sweet children, is trying to put out from this situation and only concentration made over his family and bollywood career that is now in a good track form.
However Shah Rukh is avoiding all such false fact with Priyanka Chopra by maintaining a silence over it.
His thinking of not giving attention to such false affair is really appreciated by his close friends that knew he is a man who completely devoted to his family. Shah Rukh and Gauri, a lovely couple, has faced many situations in their life to keep their love relation alive and they are always withstanding each other.
Although on a social networking site Neelam has posted this buzz "a false" one and cleared out all silly rumours, but a little bit doubt on Shah Rukh's character has brought in mind of Gauri through such all drama. And this will really put impact on their real life.