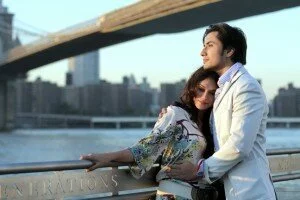 The latest released film 'London Paris New York' is getting positive response from the viewers allover the world.
Actress Aditi Rao Hydari said in an interview that her film 'London Paris New York' is a romantic one told in filmmaker Alfred Hitchcock`s thrilling style.
The actress is working opposite Pakistani singer-actor Ali Zafar. Further, she added that the film has many twists and has many interesting points, which were suspense thrillers.
While talking to media, the actress said, "There are so many twists and turns to the tale that you would never know what is going to happen next. There is this constant push and pull between the characters played by Ali and me that brings on the suspense element."
Actress Aditi Rao said, "I remember that even when I was reading the script, I hurriedly turned pages as I wanted to know what would happen next. I called up my director Anu Menon and told her that she has managed to pull of a Hitchcock styled narrative for a love story."
Meanwhile, the story of the film is divided into three years, where two strangers meet in London, Paris and New York and the lead actress of the film added since she and Ali Zafar were strangers in real life also, it helped them to do the role perfectly.
she said, "The film is about two unknown people and even though they come into each other way due to a chance encounter, there is an inexplicable connection that builds between them. Strangely the same held true for Ali and me as well; we connected almost immediately."
Aditi Rao Hydari , who has earlier worked as supporting actor in films like 'Delhi 6', 'Yeh Saali Zindagi' and 'Rockstar', will be seen as a lead actress for the first time.
Talking on this, she said, "Lead parts are what I always wanted to do. After all, you want to play the complete part which is replete with songs, dances and the stuff alike. But I was getting supporting roles which were decent enough and gave me an opportunity to work with great people."
The actress said, "As for the supporting part factor then well out there in Hollywood, even much known actors like Julia Roberts and Natalie Portman started off as a supporting roles. I am happy that things are changing in Bollywood too today."
In the meantime, the film has been released allover on March 2, and the crew of the film is expecting positve response.