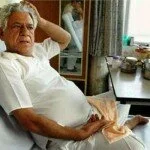 The one of the most talented and experienced Bollywood actor and theater actor, Om Puri has been discharged from a hospital after week-long treatment for typhoid.
It is said in reports, Om Puri had a prolonged bout of fever and then he was admitted to the hospital and today the veteran actor was discharged.
Meanwhile, the actor was on shooting with his crew member of his upcoming film 'Rambhajan Zindabad', a comedy film. The shooting was at Barabanki.