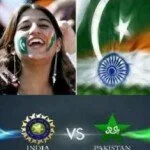 Hitting historical debut of Pak-India cricket series– three ODIs and two T20 matches- in India later this year, the Board of Control for Cricket in India has invited Pakistan for a tour in India.
This will be the first purposed series in five years, for that the Pakistan Cricket Board, PCB, also welcomed India, offering more than millions of Pakistan cricket fans a delightful moment that has been missing since 2009 when International series in Pakistan had been suspended due to having terrorist attack on the Sri Lankan cricket team.
However, still India' cricket chief are waiting for governments approval for this historical debut of cricket series.
But thinking is that can India versus Pakistan be just lead to sport. Because if this will extend then ever initial point imagine the risk factor of not only sporting encounters but also of act of terror.
Those, affected by the Mumbai 26/11 attacks allegedly planned in Pakistan which killed 166 people, how will react on this. And it is expected that their first reaction pointed this series with "debut of terror" not solely a sporting event.
Although cricket, the India's passionate game always concerned with politics and money and main question is that this time what will be driving factor whether it is only sport or something else, much worried a way to counter terrorism.
While asking from BCCI vice-president Rajeev Shukla, he told reporters, "Even after the Kargil War, and the 1965 and 1971 wars, Pakistani cricket teams toured India in 2003 and 2004."
Further said the BCCI and PCB already have good relations, and "Even the public wants Indian and Pakistani teams to play against each other."
Welcoming the invitation, PCB chairman Zaka Ashraf said, "Relations toh start ho. Relations bahal hone ke baad, phir baatein aage badegi or Let us at least make a beginning, once things get normal, we can then talk some more."
As per source report, Pakistan players, officials and fans went into frenzy over India's invitation."I think cricket will open further doors like trade and cooperation in tackling terrorism in both the countries," Former leg-spinner Abdul Qadir said, hoping the December series will be forward step towards better relations.
Even both countries are talking a lot about their encounters would be peace between nations on the cricket field, but no one says that it's going to be achieved on the cricket field, a burden for cricket to carry. Moreover, a large amount will have to be valued on this series, but have to for sporting without the shadow of terrorism, politics, bombing and blasts.