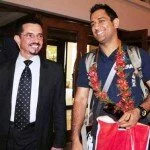 The Indian cricket team left for Sri Lanka on Wednesday to play 5 One-Day Internationals and one Twenty20 starting from Saturday. Team India arrived at Chennai Airport with support staff.
The Indian cricket team will be playing their first ODI match after a break of seven weeks. India will play their first match against home side in Hambantota.
Before leaving to Sri Lanka, Indian skipper MS Dhoni said, "Most of the players have come back after a long break and the body looks very different and their fielding and other activities look very different."
Further, MS Dhoni said, "We will make the most of the rest that we have got. It's the start of the season and we want to start it on a good note."
After the Sri Lanka tour, India will host New Zealand, play the World Twenty20 Championships and then host England and Pakistan by the end of this year.
India's tour of Sri Lanka begins from July 21, 2012
Mahendra Singh Dhoni, Virat Kohli, Virender Sehwag, Suresh Raina, Gautam Gambhir, Ajinkya Rahane, Zaheer Khan, Irfan Pathan, Rahul Sharma, Umesh Yadav, Ashok Dinda