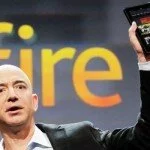 According to latest news, the well-known online retailer Amazon has recently announced to launch two new Kindle tablets in the works. The new two new Kindle tablets include a new and improved 7" Kindle Fire tablet and a bigger 10" tablet.
Now, if talked about the features of new 7" Kindle Fire, it has a hugely improved exterior design, as said in a technology blog BGR. The blog first reported that Amazon is working on such tablets back in May 2012.
The technology blog of BGR state, "Our source says that the new models feature a metal casing in place of the current-generation model's soft-touch plastic body. The back of the devices are said to include a chrome-look 'rib' that adds contrast against the black matte finish, and the feature reportedly improves the feel of the tablets and the appearance as well. This area of the new Kindle Fire models also houses the tablets' speakers, we're told."
On the other hand, the bigger 10" tablet has looks like a thinner version of the first-generation iPad. The new tablet will operate on on a fast quad-core processor and has a front-facing camera.
However, the iPad market is still very strong, Microsoft, Google and Amazon look like they are getting ready to have good fight in the market in the coming period of time with launch of the Windows 8-powered Surface, and the Android-powered Nexus 7 and rumored new Kindle Fire tablets.