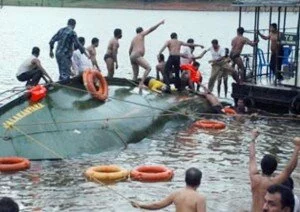 Situation was worse while an overloaded Indian ferry split in two and sank in northeast India Brahmaputra River amidst torrential rain, killed more than 100 and around 100 missing and authorities feared that the toll may rise.
The ill-fated double-decker boat that had capacity to carry 250 passengers was seemed to be overloaded with 500 without lifeboats or lifebelts. According to the Police, total 150 were safely recovered from the river, out of them 105 bodies were of women and children.
The ferry was carrying over 250 passengers from Dhubri ferry ghat to Medartary on south bank of the river when it was caught in a storm on Monday.
However, injured survivors have been admitted at the Dhubri Civil Hospital where dead bodies of killed has also kept.
Dhubri Deputy Commissioner Kumud Chandra Kalita told reporters that amidst continuous rain, rescuers, divers, BSF and NDRF were in continuous search operation on Tuesday morning to locate more bodies.
In the fear of increase death toll, he said, "The death toll may rise as more than 100 are missing and the exact toll will be known after the search operation."
Due to rough weather, the rescue operation is being disastrous as strong winds uprooted trees and blocked roads.
Source said, Prime Minister Manmohan Singh called the sinking a "tragedy" and asked for any relief in Assam with strict probing operation over the death of victims.
President Pratibha Patil had also expressed grief over the loss of lives, while Assam chief minister Tarun Gogoi said, PM had promised to rush disaster response units from New Delhi and other locations.
This tragedy reminds the recent one unfortunate incident in March of this year, when an overloaded ferry with 200 people sank in the Meghna river southeast of the capital Dhaka, Bangladesh in which 138 people died.
Tagged as: Assam, Assam Boat Accident, Assam Ferry Collapse, Brahmaputra River, Dhubri ferry ghat, Featured, India News, Indian ferry split, Kumud Chandra Kalita, New Delhi, NTN, President Pratibha Patil, Prime Minister Manmohan Singh, Tarun Gogoi, Top News, top stories

Published by Himmat Mehra in: General News India News
If you like this blog please take a second from your precious time and subscribe to my rss feed!