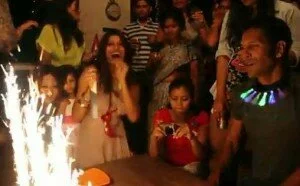 In a very shocking way the birthday party video of Bollywood actress Bipasha Basu is leaked, and now everyone can see the video on internet.
But, actress Bipash Basu is very upset with the leaked video of her b'day party.
The actress posted on her social networking site Twiiter, "I'm still in shock that my privacy has been invaded! These were private moments from my birthday that were leaked and I am very upset."
Meanwhile, the Bengal Beauty turned 33-years-old on Saturday, and true to her latest song Ho Gayi Tunn from her new release, Players, Bipasha Basu seemed to be high in the video.
The actress can be seen moving her feet with her other Bollywood friends like Milind Soman, Aftab Shivdasani, Sikander Kher and Abhay Deol, among a lot of drinks and cheers.
The actress even seen cutting the birthday cake in the video, with some special candles on it, and looked extremely beautiful in a light-coloured gown.
The Bollywood actress is also seen dancing in the washroom with a couple of girls, and later grooving on the dance floor with Sikander.
However, the upset actress posted on Twitter, "Just because we are actors doesn't mean we are not entitled to our privacy! These troublemakers should just get more productive with their time!"
Further Bips posted on her twitter wall, "I'm still in shock tht my privacy hs been invaded! These were pvt moments frm my bday tht were leaked n m very upset!"