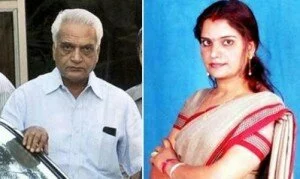 The Rajasthan police have found another clue with help of divers, the bat that was used to hit Bhanwari Devi.
Bhanwari Devi, a nurse who lived near Jodhpur, disappeared from near her home in September.
On the CBI's report the bat was found by divers in the canal that was used to smash her skull by the men who were hired to kill her.
However CBI took two of the hired hit-men to the Rajiv Gandhi Lift Canal near the village of Jaloda, 100 kms from Jodhpur where the nurse's body was set on fire.
Two politicians including a former minister Malkhan Singh and Mahipal Maderna have been arrested for murder and were forced to resign as minister after Bhanwari went missing. CBI reported that Bhawari Devi had affair with them.
Both Mr. Singh and Mr. Maderna are from the Congress party.
All such matter over her liaison with Mahipal Maderna was showed publicly when she was reportedly blackmailing him with a sex CD.
Moreover the Jodhpur court has extended the judicial custody for Mahipal Maderna and Paras Ram Vishnoi, brother of MLA Malkhan Singh, till January 20th and also Mr. Singh has been put through DNA tests to determine if he fathered Bhanwari's youngest child.