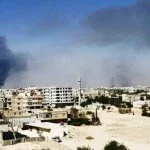 Breaking news, two bombs blasted in Syrian Capital, Damascus early morning near army and air force staff headquarters today, raising Syria unrest, while no details about causalities to be reported.
The blasts rocked Syria near the landmark of Umayyad square administrative district with a smoke of fire, heard by several peoples, media said.
Targeted area was the same where nearby Western and Arab embassies set and Air Force commanders deployed to make control over Syrians troops attacks against rebel.