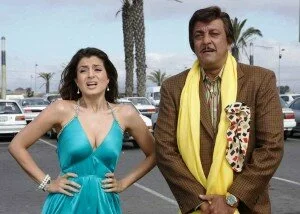 The Bollywood actress Ameesha Patel and Manyata Dutt are quite good friends for a long time, and the actress shares good relation with actor Sanjay Dutt as well.
Ameesha Patel and Sanjay Dutt had done some films together also in the past.
Meanwhile, Rohit Dhawan is getting married and all his ceremonies are being taken place in Goa.
It is said in reports that at the sangeet function actress Ameesha wore a very juicy dress which forced Sanjay to ask her to cover it up.
This comment didn't go well with the Ameesha Patel and she became angry. The actress felt that Sanjay Dutt has no right to guide her about her dress.
It is also said in media, that the actress also went upto the level of saying that Sanjay had touched her wrongly.
Talking to media, Sanjay furious with angry said, "I take Ameesha as my sister. I would've done the same with my sisters Priya and Namrata if I felt they were dressed unsuitably at an event. I would never disrespect a lady. I have never ever done that in my life. Moreover, I have always tried to help Ameesha. If she has been saying these things about me, I will lose respect for her and she will lose a wellwisher."
Media said that the actress or else also miffed with Sanjay as he denied working in two films of her production house.