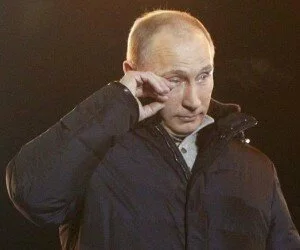 Once again after passing 12 years from his first presidency, Vladimir Putin, 59-year-old won the Russian presidency with a huge number of votes.
While declaring his victory, Putin addressed the crowd with a fiery speech having tears in his eyes and said more in keeping with the tough-guy image he has so carefully cultivated.
Putin has cast himself as the all-powerful leader and savior of the nation, immune to criticism and one more time he sounded his campaign theme of enemies here, especially U.S. that trying to destroy Russia.
He said, "We have shown that nobody can impose anything on us."
On Sunday night report, Putin declared a definite vote rigging— with only about 30 percent of the vote counted- capturing 64 percent of the vote in unfamiliar circumstances.
Lot of demonstration from December has been targeted by protesting many thousands against him as he is ridiculed on the Internet, in a way thought impossible only a few months ago.
Despite it, the result of election is unlikely to fulfill their demands for an honest government that listens to them.
Calling Putin's victory a "disgrace, not an election", Sergei Udaltsov, the leader of the socialist Left Front posted on twitter, "They again spit in our face. We will be on the streets tomorrow!"
Still the report is untested in commitment and strategy, whether Putin will crack down and they will refuse to submit, or whether he will seek accommodation and gradually reform the authoritarian regime as they hope.
Final exam of Putin to join presidency amongst thousands plan to demonstrate on Moscow's Pushkin Square, will shape up Monday.