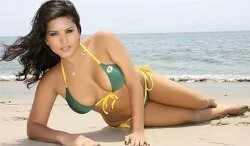 According to the latest Bollywood news, the Indo-Canadian porn star Sunny Leone, has been selected by film producer Mahesh Bhatt for his upcoming film Jism 2.
Meanwhile, reports have said that the producer was facing troubles finding a fresh face for his next project. Earlier, he also revealed in media that the same role was also offered to Bipasha Basu and Malika Sherawat, things couldn't go well.
However, when the producer saw Sunny Leone enter the Bigg Boss house, he knew she was his heroine.
When asked, Why Sunny Leone? The filmmaker said, being an adult movie star she must have gone through her share of struggle and tough times and that is precisely what the leading lady of Jism 2 needs — an "emotional edge" besides good looks.
While talking to media in an interview, Mahesh Bhatt said, "I am not casting Sunny Leone for her body, but I see that loneliness and heartbroken soul that is behind that smile….'Jism 2′ narrates the story of a woman who transcends from the 'body' to the 'soul'. I wanted to approach an actress who not only has the physical attributes but also the emotional 'edge' to carry off the complexity of the role."
If the Indo-Canadian porn star indeed agrees to sign the film, she will play a small-town girl who comes to Delhi and is sucked into its debauched culture of drugs, discotheques and prostitution.
It's not clear if Sunny's character will turn into a sex worker in the movie, though, it will be interesting to see how she will perform in her debut film and that too with Mahesh Bhatt's film.
We can only give our best wishes to Mahesh Bhatt and Sunny Leone.