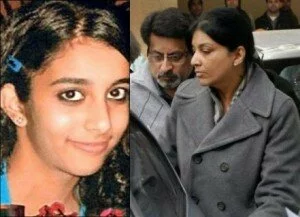 As per the Supreme Court's Friday order, the trial will have to face by 14-year- old school girl Aarushi's bereaved parents.
Arushi's murder case is a mysterious case under which CBI could be found any evidence against any people who contacted with it.
So many criticisms had been drawn for CBI regarding its twists and turns while probing the sensational Arushi Talwar murder case at well protected Noida house in May 2008.
So the Supreme Court on Friday rejected the petition filed by the doctor couple, Rajesh and Nupur, seeking quashing of the summons issued to them by the trial court to face the prosecution , that give much comfort to the agency.
However claiming some credit for its "smart" move in the case, the agency's former director Joginder Singh said: "If the trial court decided that the CBI's closure report had enough evidence for trying Nupur and Rajesh Talwar, it was because the agency had placed all the details before it. It was an honest thing to do."
In December 2010, being filed the closure report over case by giving relief to all the other suspects, CBI had pointed the needle of suspicion at the Talwars – in the trial court. It had not filed chargesheet like other because no evidence had found against the Talwars. Read the rest of this entry…
Comments Off