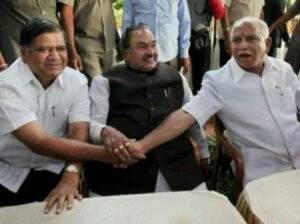 The chances of former Karnataka chief minister B S Yeddyurappa are going to be high as his supporters requested Nitin Gadkari, the BJP president to ask Yeddyurappa for once again join chief ministership by Feb 27.
During his two-day Chintan Manthan or brainstorming session, started today, Mr. Gadkari met Yeddyurappa in Bangalore to take some guidelines for removal of a huddle with all its MLAs and MPs as another crisis over issuing an ultimatum to his party in Karnataka.
As per source report, Yeddyurappa said that he was dissatisfied with the current chief minister, Sadananda Gowda who getting too close for comfort to his rival JDS chief HD Deve Gowda. It was the Yeddyurappa who had helped Sadananda Gowda become the Chief Minister after he was forced to resign.