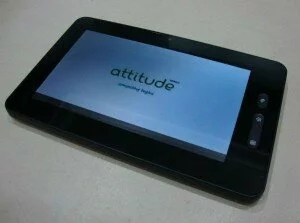 A 7-inch Attitude Daksha tablet launched by Telmoco Development Labs Pvt, signing by Technopark Technology Business Incubator (T-TBIC), to beat the several tablet market competitors, especially the government's Aakash tablet.
Targeting the higher educational institutions, students and professionals, Attitude Daksha is to be launch at schools, professional institutions, and corporate houses, being available in the market from May 15 for Rs 5,399 inclusive of all taxes.
Interested users can also be purchase Attitude Daksha from online store of Telmoco.
The advance technology tablet supports 1.2 GHz ARM Cortex A8 processor with 512 MB DDR3 RAM, a HDMI port, Micro SD slot and 3.5 mm audio out.
Users can watch 1080p full HD video and Interactive digital Apps through 400 MHz GPU, powered by 3,800 mAh li-Pol battery with a Micro USB port and OTG connector for 3G Dongle and RJ 45lAN cable along WiFi, accessing network fastly.
"Even though the Indian media tablets market witnessed high decibel launches by the world's leading vendors, the Tablet PC market in India is a niche market that is quickly picking up the pace in terms of adoption," said C.R. Nijesh, chairman and executive director, the electronics research and mobile technologies' company said in a statement.
Tagged as: Aakash tablet, Apps, Attitude Daksha, Daksha tablet Cost, Featured, HD Video, Low-cost tablet, Low-cost tablet PC, NTN, tablet computer for students, Tablet pc, tablets, Technology, Telmoco Development labs, Wi-Fi

Published by Himmat Mehra in: Technology
If you like this blog please take a second from your precious time and subscribe to my rss feed!