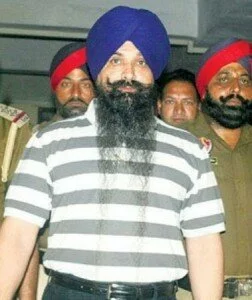 In the latest twist in the Balwant Singh Rajoana case, the five Sikh high priests has announced that the Chief Minister of the state Parkash Singh Badal, SAD President and Badal's son Sukhbir Singh Badal and Shiromani Gurdwara Parbandhak Committee (SGPC) chief Avtar Singh Makkar to quickly meet the President of India, Pratibha Patil.
The decision to immediately meet the President was taken as to take required steps by the state as well as central governments to make sure the 'unconditional release' of Babbar Khalsa International terrorist Balwant Singh Rajoana.
Meanwhile, Balwant Singh, who is found guilty for the killing of former Punjab Chief Minister Beant Singh and 17 others, has been sentenced to be hanged till death on March 31 by a Chandigarh Court.
Babbar Khalsa International terrorist Balwant Singh Rajoana is presently in the Patiala jail.
For more, reading the order, Akal Takht chief Giani Gurbachan Singh also gave the title of 'Zinda Shaheed' (Living Martyr) on Balwant Singh Rajoana for his "brave, determined and fearless stand against the atrocities by the centre".
Giani Gurbachan Singh also confers upon Dilawar Singh, who had blown up former chief minister Beant Singh and died in the process, the title of 'National Martyr of Sikhs'.
Talking to media, the Akal Takht chief said, "The decision was reached in daylong deliberations by the high priests on more than 250 written suggestions received from religious, political and social organizations."
Few days back, a group of pro-Khalistan activists showed motto against the clergy for nearly 40 minutes outside the Akal Takht secretariat.