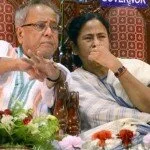 "Who will become the next President of India?" this is the current topic in Parliament for the ministers who are in race to filling the nominations for it.
One of the top most is of Finance Minister Pranab Mukherjee who thought for becoming the President, one should have party support because it is party that nominates.
"The party will decide. The party nominates. You cannot become President just because you want to," Mukherjee told reporters outside his residence.
Further adding, Mukherjee said, "The Congress party and the UPA have entrusted UPA chairperson Sonia Gandhi with the task of choosing the candidate."
It has been reported that the United Progressive Alliance (UPA) government is likely made announcement over its presidential candidate by June 15.
On Saturday,UPA clarified with a statement that discussions with allies is on, but no name has so far been finalized.
However, Congress official statement of no final name has been suggested yet, but has been ensured that Mukherjee is the first choice of party for the post. And for that Congress tried to secure the favorable support of the DMK, NCP and RLD, and outside the SP.
Even party leaders talked with Trinamool chief Mamata Banerjee, the second largest party in the alliance over the weekend to seek her support in find a candidate who establish consensus among the different members of the UPA coalition, but she clearly said that she is not opposed to anyone, source said.
Beside Banerjee who had suggested other names like Lok Sabha Speaker Meira Kumar and the former West Bengal Governor, Gopalkrishna Gandhi, DMK and S P will likely to support Mr Mukherjee's candidature.
Meanwhile, over all one thing is cleared that chances of Mukherjee to designate the Presidential post are going to be high and it is defined by his recent cancellation of June 14 visit to Afghanistan.