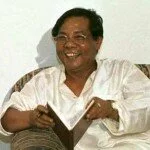 Presidential Poll is the biggest controversial fact in the Parliament at this time as Pratibha Patil's as the President ends in July this year.
And one twist that heating the situation more is of taking name of Former Lok Sabha Speaker P.A. Sangma for Presidential candidature as tribal leader.
Sangma who had earlier demanded to chose the President this time from the Scheduled Tribes community, has backing support of the BJD and AIADMK, but pulled by Nationalist Congress Party (NCP) chief and also the Union Agriculture Minister Sharad Pawar.
The NCP said Sangma tried to protect himself as a Presidential candidate by getting support of the Jayalalithaa-led AIADMK with that he had a meeting in Chennai. It made it clear that it couldn't aspire for such a big post as it didn't have the numbers, source said.
Three days ago, Sangma sent letters to all leaders of parties regarding holding a meeting in Chennai on 15 May in which Odisha Chief Minister Naveen Patnaik and Jailalithaa also presented.
While asking about meeting, he said, "I am glad that Naveen Patnaik and Jayalalitha have come out in my support. I am meeting all political parties. We want a tribal President. Pranab Mukherjee is competent but time has come for a President from the Scheduled Tribes community."
Tamil Nadu Chief Minister Jayalalithaa has top in support of Sangma's candidature for the Presidency. After a day of meeting, consulting with Patnaik along within her party, she appealed all parties to support the tribal leader for the highest office of the Republic of India.
"I now appeal to all political parties to rise above political considerations and support Sangma and ensure that he becomes the next President of India," she said in her appeal.
On the issue of disowned his attempts to enter the Presidential race by Pawar, he said, "Nothing of that sort happened". "Any tribal leader can become the next president that is what we are trying to achieve, he added.
Moreover, Pawar cleared that the party will stand with that of the UPA. Though Finance Minister Pranab Mukherjee and Vice President Hamid Ansari are two top profile Presidency's candidature, preferred by the Congress, but still no clear stand has taken by the party.