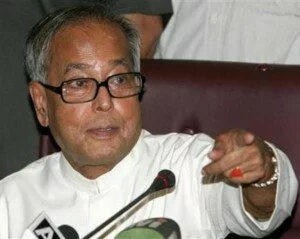 After badly defeated in Assembly elections, the Congress party seems to have a rallied support over upcoming Presidential poll's nominee from all the oppositional parties.
One name on the top of list is of Finance Minister Pranab Mukherjee whose chances to be appears as front runner in President's post are going to be high as he has full support from both side his party as well as outside with allies.
The UPA constituent Trinamool Congress and Samajwadi Party, both decided to support the Congress if it for Mukerjee's candidature and evolves a broad consensus.
But it does not mean that the chances of Vice President Hamid Ansari are went off completely given the fact that the running of the government is highly dependent on Mukherjee's utility as a troubleshooter, sources reportedly said.
It is for first time that Trinamool Congress chief and West Bengal chief minister Mamata Banerjee agreed with Congress president Sonia Gandhi comprising vice-president Hamid Ansari and finance minister Pranab Mukherjee for Presidential post. She openly said that any candidate chosen by the Congress party would be supported by her party also.
A senior leader said that all the UPA, DMK and NCP, constitutes except BJP ally JDU, have agreed their support to Congress.
In different opinion within the BJP-led NDA, Opposition leader in Lok Sabha Sushma Swaraj openly stated a statement that her party would not support to any Congress candidate, while JD(U) said it would not accept the BJP's unilateralism. BJP is seeking to force the Mamata Banerjee and Mulayam Singh Yadav to give acceptance to APJ Abdul Kalam candidature that both have now ruled out support.
On the other side, Left parties, who were the key players in Ansari becoming the vice-president in 2007, also were not averse to supporting either him or Mukherjee.
Over all decision depends on the party leadership, on basis of which the call has taken whether to spare Mukherjee for the constitutional post.
Asking about Presidential nominees, Spokesperson Rashid Alvi told reporters, "The consultation process is on. No names have been finalised. Renuka Chowdhury's remarks show the importance of Pranabda. It does not mean he is ruled out of anything. It shows his importance for the party, Parliament and the country."
All in all, both Mukherjee and Ansari are the good choices for the candidature. As "Pranab Mukherjee, the most experienced politician is too "valuable" to Congress as the government to be spared for the president's post led to much speculation during the day.
Hamid Ansari, the vice-president has strongest candidate as traditionally, the vice-president gets elevated to the top post, he also would suit Banerjee because Muslims account for 26% of West Bengal's electorate.