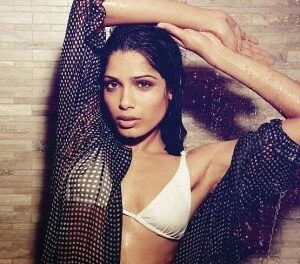 She was first recognized the fame with the super success of Bollywood film 'Slumdog Millionaire' which was released allover the world around four years ago.
Yes, we are talking about Bollywood actress Freida Pinto. The actress normally known as one of the best dressed as well as one of the 'most beautiful women in the world' lists.
However, in her very fresh photoshoot, the 27-year-old actress has come up with a completely new look. She has showed her sexy side as she posed suggestively in a vest and panties for the April issue of men's magazine 'Esquire'.