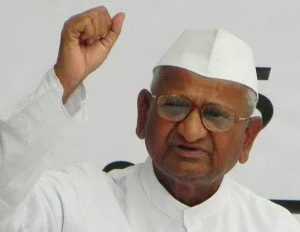 Today, social activist Anna Hazare will be arriving in the Capital of India for his one-day fast at Jantar Mantar on Sunday.
The draft bill on Lokpal, that presented by parliamentary panel, is completely opposed with Anna's Lokpall Bill.
He is not satisfied and by Lokpal parliamentary panel becomes fool of people.
The draft is reported that group d employees are covered under Lokpal but Anna team demand Group "C" and "D" both are to be covered. And another recommendation made by committee is that not to bring PM under lokpal, else where Anna Team accused it and demand to bring PM under Lokpal.
Committee chairperson Abhishek Manu Singhvi said of the remaining 11 issues, 23 members agreed on 10 of them. The highest number of dissenters (13) was on the issue of including the lower bureaucracy under the proposed Lokpal Bill.but a major controversy is on regarding the issue of bringing the Prime Minister (PM) under Lokpal. The committee leaves this on the voting of parliamentary panel members.
While questioning of this report, Anna said "The issues remain the same. This means the Parliamentary Standing Committee has fooled the public. Their report does not help in fighting corruption.
Along this, Team Anna member Arvind Kejriwal said, "Standing Committee had 30 members. Two never attended. Sixteen dissented. So this report is supported by balance 12. Seven are from Congress, Lalu Prasad Yadav, Amar Singh and rest from Mayawati's BSP. So much for credibility of this report."
However Pawan Bansal, parliamentary affairs minister suggesting Anna not to go with fast on Sunday. He said, "They should all wait for a decision in Parliament. People can give their views and Parliament takes the decision."
"It amuses and bemuses me that discussions will be held in Jantar Mantar", Bansal said in form of answer on Hazare's agitation on Lokpal Bill.
Now the decision of Lokpal Bill has been chosen by the prime minister, Lok Sabha speaker and Rajya Sabha chairperson, and a new fifth member in the panel.
The committee has recommended that fifth member will be selected by the Controller and Auditor General, chief election commissioner and chairperson of the Union Public Service.