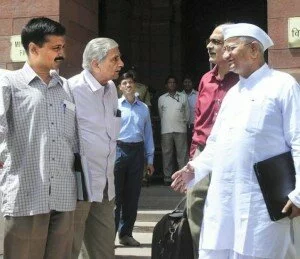 Today all–party meeting will be held at PM's official 7, Race Course Road residence in the evening in which the issue of a strong Lokpal bill will be discussed.
The congress is threatening for the forthcoming assembly polls, because of Anna's activist on Lokpal. Prime minister called all-party meeting in New Delhi, parties will coming are of BJP, the Left and
By pressuring the govt. to wider the area of consensus, there may be full chances to accepting the demand of including the office of the Prime Minister within the ambit of the Lokpal Bill with some safeguards.
And because of this the rumour is that the allies conveyed to Prime Minister Manmohan Singh and Congress president Sonia Gandhi that they will stand behind the Government on any decision on the vexed Lokpal issue.
On the opposite side, BJP and opposition party leader already planned for the adverse circumstances. After Tuesday meeting, S S Ahluwalia, BJP leader told Media, "We will press for that in tomorrow's meeting. If they don't agree, then we will try and bring amendment in the Lokpal Bill after consultation with other political parties."
Taking U-turn, and expressing her acceptance for Lokpal, Uttar Pradesh Chief Minister Mayawati committed in her statement that the Congress of being soft on corruption and demanded that the Prime Minister, CBI, Group C and D employees be brought under the ambit of Lokpal.
Along her, the CPI (M) leader Sitaram Yechury is also agreed for the Lokpal ambit and meanwhile, the govt. is under heavy pressure to issue a strong and effective Lokpal Bill. Now today meeting would decide the acceptance and rejection of the party leaders