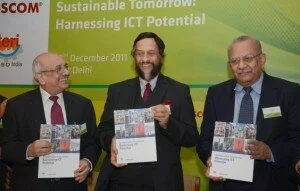 The issue of changing the climate by adopting green practices is going ahead with the help of Information and communications technology (ICT).
While participating in the event organized by The Energy and Resources Institute (Teri), experts said that The ICT can play a major role in combating climate change by adapting more energy efficient practices like energy efficient cooling, green data centres and e-waste disposal.
Beside this, on a report release on "Sustainable Tomorrow: Harnessing ICT Potential "RK Pachauri", a jointly made report by Teri's Business Council for Sustainable Development (BCSD) and The National Association of Software and Services Companies (Nasscom).
Director-general of The Energy and Resources Institute (Teri) said, "ICT could help in combating climate change, by encouraging, adopting green practices and developing of more energy efficient devices, applications and networks. ICT can be a key enabler which can promote growth by a low carbon economy."
"The report is just a step forward, with a rapid growth of ICT sector makes it imperative that in future, it needs to run in an energy efficient manner," he added.
Meanwhile, the report shows the potential of ICT sector and its motive to roll out India's energy requirements by encouraging practices that lead to a healthy climate without affecting the economic growth.