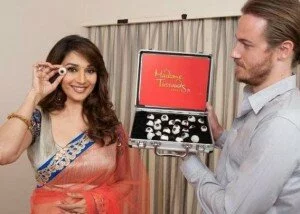 As per the latest Entertainment News, the one time top class actress of Bollywood, Madhuri Dixit will now join the club of celebrities like superstar Amitabh Bachchan, Aishwarya Rai Bachchan, Salman Khan, Kareena Kapoor, Shah Rukh Khan and Hrithik Roshan with her wax statue at the famous Madame Tussauds, London.
Moreover, the wax statue of Bollywood beauty will likely to be launch in March this year.
Earlier, it was reported to media by the Madame Tussauds, London that they will be placing Madhuri Dixit Rene's wax statue in 2012.
Officials from the Madame Tussauds said, "The Madame Tussauds team are so excited about 2012 – and we've got another new figure announcement for you. The next Bollywood star to join Madame Tussauds London will be Madhuri Dixit-Nene. She will be joining the attraction in March 2012."
On the other hand, talking to media, the Bollywood actress Madhuri Dixit said, "It's a real mark of achievement and recognition for one's art and work. It's also wonderful to be following in the footsteps of other Bollywood stars and some of my personal heroes!"
Further, Madhuri Dixit will be collaborating with the Madame Tussauds team to agree the pose and the actress has also announced to donate a Manish Malhotra sari for her figure to wear.
In addition, it is said in reports that the total cost on the making of wax statue will be around £150,000, and take a team of sculptors, hair, make-up and wardrobe experts four months to create.